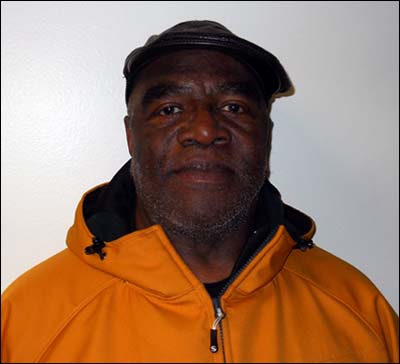 Hunter
Hunter, as we know him, is literally a man of many hats. His is a life dedicated to the service of his fellow man and his story is an interesting, inspiring one.
James Nathaniel Hunter Jr. was born in Glasgow, Virginia on August 16, 1943. His father worked in the Burlington Mills and his mother was a homemaker. Of their four children, he was their second child and only son.
In 1948, when Hunter was five years old, Social Services stepped in and removed him and his sisters from their parents and placed them in foster care. Hunter was sent to live with the Lyle family, Baptists who lived on a small farm, in Fairfield, Virginia. Hunter's new foster father worked as a cook on the railroad and his wife was a homemaker who sold extra produce, fruit, eggs and other home-grown sundries on the side. Of their six children, two siblings were still living at home. One was about ready to enter college but the other was near Hunter's age. Hunter was welcomed as a new family member and was treated the same as the biological kids. His three sisters were sent to other families, but he has maintained some degree of contact with them throughout his life. Hunter speaks very highly of the Lyles' for instilling in him a moral code of respect and for turning his life around in the loving, caring environment of their household.
Although the State of Virginia had voted in 1954 to integrate their school systems, it was met with much resistance and non-compliance. As a result, Hunter's first twelve years of education was spent in Lexington, Virginia in a segregated school. His only classmates were Native- Americans and African- Americans. He was an excellent student who applied himself in his studies, which gained the attention of the church ladies of the Robert E. Lee Memorial Episcopal Church. They provided scholarship funds for Hunter to continue his journey in higher learning. Remember that Social Worker who'd placed him in foster care so many years before? She was a member of that congregation. She is now 92 and continues to keep a watchful eye on him to this day. A few years ago, Hunter was invited back as a guest speaker at that church. His sermon must have resonated with more than just a couple in that congregation because he was offered employment on the spot--which he turned down!
When Hunter was about fifteen, he and several other young men from around the area moved in with a family near Lexington so they could participate in a football program. The household consisted of a married couple, their two sons, a grandfather plus the 12-16 young athlete boarders. There were chores, rules and wonderful role models there. The food was good, plentiful and provided with the established expectation to "give back." Every young man who spent time here graduated from college and became successful in their own lives. Hunter's other family, the Lyles', fully supported him while he was living in town. Because of the job opportunities that were available in that urban setting vs the chores on the Lyle farm, Hunter stayed in Lexington during the summer months and worked.
After completing high school with honors, Hunter enrolled in St. Paul's, an Episcopal college in Lawrenceville, Virginia. He graduated in 1966 with a BA in Social Work and went on to attend Bexley Hall (Kenyon College), a formerly all-white institution, in Gambier, Ohio. As the only African-American on campus, Hunter's eyes were opened to how cruel people could be to each other. Every day presented a new lesson in bigotry, racism and separatism. In this environment he received his Master's Degree in Theology in 1969. Hunter obtained his final Master's in Elementary Education in 1970 through the State University of New York at Geneseo. Though he had at one time considered a future in law, this was not to be. Hunter had, however, accomplished the nearly impossible: he'd successfully obtained three degrees, two of which were advanced, all on scholarship!
1970 found Hunter in Rochester, New York, employed as the assistant to the minister at St. Simon's Episcopal Church. Hunter ran the summer program for the church and hired recent college graduates. One of those young individuals was Sharron Condon, who'd recently received her BA in Elementary Education from State University of New York at Oswego. She was twenty-three, single, unattached and very attractive. Sharron's father's reaction was a resounding, "It's not going to work. This'll be over in three years," but her mother was much more optimistic. Hunter's foster father agreed with Mr. Condon. After closely scrutinizing Sharron, he affirmed to her, "You're sure enough white," then went on to say to Hunter, "Boy, why can't you find yourself a nice colored girl?" They dated for two years before setting their wedding date for June 21, Summer Solstice, 1972. Unfortunately, a terrible flood came through which delayed the ceremony until July 22, Mary Magdalene Day. If you look inside their wedding bands, you'll see the original June wedding date still engraved. Hunter says his greatest inspiration was and still is his wife, Sharron.
From Rochester, New York they accepted teaching positions on a Navajo Indian Reservation in Arizona and in 1975, Hunter became a guidance counselor. In 1977, the Bureau of Indian Affairs transferred the couple to the Yupik Eskimo community of Tuntutuliak, Alaska, near Bethel, as educators. In 1980, Hunter accepted the position of Principal and in 1981 he stepped down, began teaching again and Sharron took over the Principal's reins until their jobs ended in 1983. They relocated to Fairbanks in 1984 and because work was scarce, sold Kirby vacuum cleaners and took whatever jobs they could find to keep food on the table. Hunter eventually secured a position in 1985 as a counselor for the Fairbanks Resource Agency and stayed there until 1988 when he was hired as the priest for St. Jude's Episcopal Church. Hunter held that position until 2003 before moving on to a private school group for a year. From 2005-07 he was the Cultural Liaison for the Fairbanks School District at North Pole High School and from 2007-2011 as their Graduation Success Coach. One could argue that Hunter has never officially retired, because he spends so much of his time with volunteer work and other interests that benefit the community.
Hunter's name is synonymous with one of the biggest success stories in the Fairbanks area. In 1985 he, Sharron, Dick Farris and Jean Ambrose formed the Breadline in Fairbanks which today continues its mission of serving food to anybody in need. Hunter owes its success to the great support that was provided by the many local churches, community members, businesses and others who were willing to expend financial support and sweat-equity in this major effort. They opened their doors on April 1, 1985 and have served over a million meals since then. Stone Soup Cafe is an outreach of this non-profit.
Hunter belongs to 17 Mile Homemakers FCE, Fairbanks Senior Center, is a commissioner for the North Star Council on Aging, is a director of St. Jude's Jubilee Center (North Pole's "local" Food Pantry), a former North Pole City Council member and is very involved in the food programs at North Pole High School. As a member of Santa's Seniors, he has served on the Board of Directors, as President and has spent countless hours in our kitchen preparing meals for The Breakfast Place as well as for our monthly Birthday Luncheons. He has also generously lent his talents and time for many of Santa's Seniors fundraisers and events.
In fact, his expertise in the kitchen has resulted in his being in huge demand for other community events. Hunter has donned his apron for the City of North Pole Mayor's Picnic for at least three administrations and has helped make several Summer Festivals successful. Hunter's foster mother made sure all her kids were able to cook at a very early age and he has adopted her corn pudding and macaroni and cheese recipes as his own.
If Hunter were to have a dinner party and could ask anyone he wished, he'd ask Sharron's parents, his foster parents, John Gardner, Barack Obama and George Walker Bush. He'd serve chicken, potato salad, macaroni and cheese and corn pudding, jello salad, fried catfish and collard greens with bacon and onion.
Hunter loves to read mysteries, history and Janet Evanovich. He is also a fan of games, especially pinochle and Phase 10. Easy listening, Enya, Yanni and classical music transmitted by KUAC Radio are some of his music favorites. He says he'd describe a perfect weekend as one without obligations—no preaching, no teaching, no heavy chores—just sitting in the sun or gardening in his yard. Of course, I'm assuming a perfect weekend would include a few treasure-filled garage sales! He finds peace and comfort in "sacred ground," citing Belize and Sedona, Arizona as two such spots on earth.
Hunter is generous to a fault, (and in his own words, "stubborn, strong willed, not easily willing to accept defeat") and has "lost" many articles of clothing, personal items and untold amounts of cash to people who simply ask for it. He is, admittedly, an easy target, especially when it comes to kids. He prefers giving anonymously, whenever possible. Besides, he has noted through his years of officiating and attending funerals, he has never seen a bank representative tucking an envelope of money into the casket nor has he noticed any luggage racks on hearses. He also adds, "Sharron and I don't have kids of our own, so why not?"
As far as regrets, Hunter wishes he could turn back time and perform those random acts of kindness and charity he didn't do but should have. His bucket list is one of extreme action: travel to New Zealand and Australia, downsizing and de-cluttering his home and plans for more camping trips.
Hunter strives to live each new day by the Four Agreements which were made popular with Miguel Ruiz' book. They are: 1. Be impeccable with your word. 2. Don't take anything personally. 3. Don't make assumptions. 4. Always do your best.
Perhaps these words should be inscribed on all our hearts as we make our way in this world?
Interview by Francie Cork - Photo by Cindy Jeffries